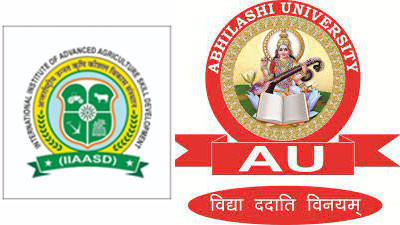 MEMORANDUM OF UNDERSTANDING
This Memorandum of Understanding is executed on this 28th January, 2021 (hereinafterreferred as the "Execution Date") by and between.
Abhilashi University, Chail-Chowk, Tehsil Chachyot, District Mandi, Himachal Pradesh-175045 (hereinafter called "AU") situated in a lush green valley surrounded by oak and pine forests on a serene hilly terrain. AU was established as a State Private University by the Government of Himachal Pradesh vide Abhilashi University (Establishment and Regulation) Act, 2014. AU is recognized by UGC u/s 2(f), HPPERC, CCIM, PCI, AICTE, NCTE, HPPVC. It became operational on August 14, 2014 and now having five Faculties (Schools and Departments constitute the Faculty) conferring diploma, graduate, post graduate and doctoral degrees in different subjects. Courses include BAMS, BPT; B. Sc. and M. Sc. in Agriculture; Diploma to Ph. D. in Pharmacy; B. Tech., M. Tech. & Ph. D. in Engineering; Master and Ph. D. in Education, Management and Sciences; integrated program of BA/BSc B Ed; Diploma in Ayurvedic and Veterinary Pharmacy; B. Sc. MLT and more. The courses are approved by different regulatory bodies. "Excellence in Professional and Technical Education through Dedication and Innovative Research" is the Vision of AU. Dedicated eligible faculty with well-equipped laboratories and other infrastructure impart knowledge to the students. The campus has Wi Fi connectivity. The library has large number of books and its digital wing subscribed to inflibnet and Delnet. Abhilashi Ayurvedic Hospital & Research Institute on the campus also caters to the needs of the local community. Our veterinarians and agriculture experts regularly advise the farmers of the surrounding villages for the better yield of the latter's produce. Mission of AU is to impart best quality education to its stakeholders and carry research of national and international significance.
AND
International Institute of Advanced Agriculture Skill Development (IIAASD) is the first of its kind institute which is providing one stop solutions for the commercial cultivation of medicinal and aromatic plants and organic farming from training to marketing and processing. We are a source of knowledge and information in field of organic farming practices, medicinal and aromatic crop cultivation and horticulture farming, Till date we have trained 10,000 farmers from all across the India to become entrepreneurs as well as 40,000 farmers who have got training from our institute to become economically independent.
Since 1996, we are providing this unique kind of services to the nation, our aim is to provide low- cost farming practices knowledge by reducing agriculture input cost and in return farmer should get high quality output and in return they could get high value for their products.
With this vision and mission, we started International Institute of Advance Agriculture Skill Development in year 2010 for the betterment of Farmers and Agriculture in India. From starting we have overcome many milestones by providing better knowledge and good quality services to India. Farmers and Agri Entrepreneurs from all across the country are coming here for getting this precious & unique kind of knowledge and services.
Modern agriculture practices are increasingly turning out to be knowledge-based and hence gaining expertise in them is not an easy task for many of our rural farmers. Agriculture is an important part of our Indian economy and the demand for skilled professionals in this field is growing day by day. With this vision in mind institute devoted to provide certificate courses which will give:
Better job prospect to students,
Quality cultivation knowledge to the farmers,
Provide earning information to Rural People and Village Women,
Marketing knowledge to the Agri- Entrepreneurs,
Better source of information to the Agri- Professionals etc.
The respective Institutes jointly recognize this MoU to mutually cooperate in the areas of Agriculture and Life Science Education, Research and Development as well as support to research and development.
OBJECTIVES
The primary purpose of this MoU is to recognizing the importance of research and development in the areas Organic Production, as well as imparting organic farming to the Agriculture students, etc. The MoU shall formally set out the terms of cooperative relationship between the parties, establish their respective roles, and facilitate the function of each party in relation to collaborative trainings and research.
The parties agree to develop collaborative activities in academic areas of mutual interests, entrepreneurship development and as equal partners with reciprocity.
The development and implementation of specific activities based on MoU shall be negotiated and agreed between individual faculty members and/or through the Heads of Institutions. This MoU is agreed on the basis of cooperation between the parties, subject to the availability of resources, approval of both parties, on basis of mutual reciprocity through such activities or programmes as:
Advance agriculture skill development education to students and farmers
Students and farmers training
Research
Consultancy
Study visits
Promoting any academic activities of interest based on mutual agreement
Policy advocacy in natural farming
Responsibilities of Abhilashi University, Chail-Chowk, Tehsil Chachyot, District Mandi, Himachal Pradesh, India
Abhilashi University shall:
Recognize the IIAASD as Centre for conducting various research and training activities in Agriculture and life sciences.
Allow students and even the faculty members of Abilashi University to register for any training programme run by IIAASD. 
Invite IIAASD faculty members/ scientists of IIAASD as visiting faculty members to deliver lectures as per requirement of the University in various courses.
Provide timely clarifications regarding Academic Inputs and any other necessary information to the Training Centre.
Responsibilities of the International Institute of Advanced Agriculture Skill Development(IIAASD) Jaipur:
 The IIAASD, Jaipur, Rajasthan shall:
Organize training and handholding activities for the organic cultivation of medicinal plant and other courses as per the institute guidelines for the students and staff of Abhilashi University.
Provide agriculture experts for giving lectures
Make records of the trainee and their regular attendance and share them with Abhilashi University.
Provide assistance to conduct study visits, field visits, etc.
Provide free of cost counseling and guidance to the students for one year after training.
Provide organing farming practices.